Congratulations Carson Woods!!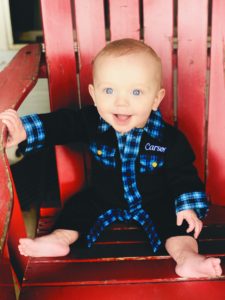 "Carson Woods is 7 months old. He loves sitting outside and rocking in his chair! He smiles all the time and already has such a fun little personality." says mom Kyndra Gaither. 
For winning, mom Kyndra will be sent a $25 Starbucks gift card to help fuel her days raising Carson!  
Beginning April 1, 2020, here's how it works: 
Choose one favorite baby photo

Complete entry form and upload one baby photo. That's it! 
Every week, we select a "Baby of the Week" from our baby photo entries. The winning baby will appear on this page, along with the prize for the parent! 
Please check back weekly.
To be sure to have everything ready for when your newborn arrives, start your baby registry and get a Free Welcome Box!