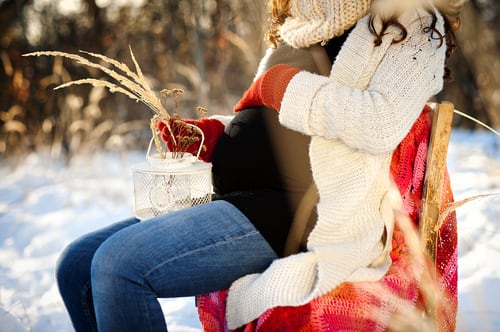 We're sharing the cutest, coolest, most fun presents for every member of your family, and today's all about us. Check out our favorite holiday gifts for new moms, and pretty picks for a sister, friend, or yourself.
Pearhead's Baby Memory Photo Journal and Baby Book is the perfect gift for any baby shower or baby gift registry; includes 50-guided journal pages with space for photos and 3" x 3" cover photo insert

Pages include: who this book belongs to, baby's introduction, about mommy, about daddy, mommy and daddy's story, family tree, mommy's pregnancy journey, doctor visits, baby shower, gift and guest list

Pages also include: delivery/birthday!, prints from hospital, birth announcement, visitors/gifts, homecoming, the world I came into, baby's first bath, laugh, words, crawl, steps, and more, favorite things, growth chart, sleep, eating, and bathing schedule
Teething jewelry isn't new, but this two-toned strand is one of the prettiest we've seen. Plus, the nontoxic silicone baubles are lab-tested to assure that parts won't break or detach while in baby's mouth.
Proof that nursing covers don't have to be ugly: The NüRoo Nursing Scarf uses snaps to let you customize your coverage—wrapped or draped, front or back, over the shoulder or around your neck. With supersoft fabric, you'll probably still be reaching for it once your breastfeeding days are long gone.
High in essential nutrients and trace minerals necessary during pregnancy and beyond, consider this blend a prenatal supplement in a warm, soothing cup. Flavored with raspberry leaf, rose petals, and orange peel, it's delicious, too.
We're not sure what we love most about this gorgeous topper: The fact that it'll make you look like a million bucks, that it's made from luxurious cashmere, or that it's designed to be worn during and after pregnancy.