With so many new, high-tech baby products on the market, it's tough to know what technology you should buy to help care for and look after your bundle of joy. If only you could get everything you need in one package! 
Thanks to ecobee's new Sweet Dreams Baby Kit, new parents can get just that. This baby bundle combines ecobee's SmartCamera with voice control and its signature SmartThermostat and SmartSensor to keep a watchful eye on your baby day or night. The brand's focus on sustainability ensures that the system is designed to grow as your baby grows; use the camera in the nursery during infancy, monitor a toddler's playroom, and finally, transform the camera into a home security system at the touch of a button.
Here's our review of the ecobee Sweet Dreams Baby Kit, which we think is a game-changing sleep solution for helping parents raise their baby from infancy and beyond. 
The ecobee Sweet Dreams Baby Kit
Since introducing the world's first smart Wi-Fi thermostat, ecobee has worked to help transform the way people save money and conserve energy. The brand creates technology that is focused on bringing peace of mind to the home and allowing parents to focus on the moments that matter most.
ecobee's latest baby bundle, the Sweet Dreams Baby Kit, combines three devices that work together seamlessly right out of the box to help keep your baby safe and comfy all year long. After learning how much their customers loved using their SmartCamera with video and voice control as a baby monitor, they combined this useful product with some other fan favorites to provide the ultimate sleep kit for parents and baby.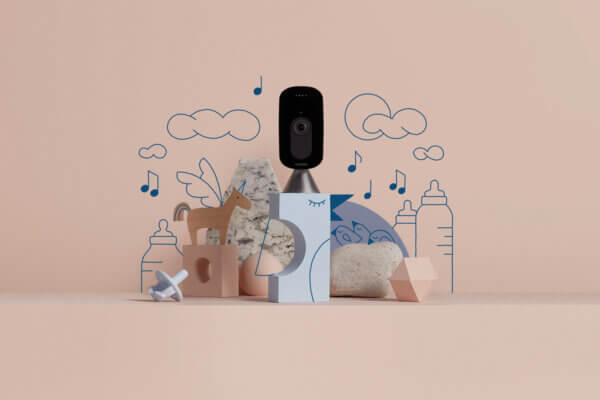 Together, the products that make up the Sweet Dreams Baby Kit to help parents watch over their little ones as they sleep, play, and more. The bundle was built by families for families so that it can be adapted as your child grows and enables the entire family to live comfortably for years to come. 
Products and Uses
The Sweet Dreams Baby Kit is equipped with three products: the SmartThermostat, SmartCamera, and SmartSensor. 
The ecobee SmartThermostat with voice control helps you keep the temperature just right for you and your little one. Never too hot or too cold, you can keep your baby's room and home at a consistent, comfortable temperature. The team at ecobee recommends that you keep temperatures between 68°F-72℉ to provide the ideal safe and comfortable sleeping environment for your baby. This thermostat comes complete with Alexa Built-in, temperature slider, quick changes and clearly displays the system mode, indoor humidity, temperature, and weather. 
The ecobee SmartCamera for baby monitoring is equipped with 1080p HD video and a 180° field of view. No matter where you are in your home, you'll get a crystal clear unobstructed view of your baby from your phone or tablet. When the sun sets, you can use the camera's night vision to see your baby as clear as day. This camera comes with Alexa Built-in, a system status light, wide-angle lens, speaker, and a mountable stand.
To supplement your SmartThermostat, the ecobee SmartSenor can be placed in your baby's nursery to adjust your thermostat based on the temperature and occupancy in that room. That means, rather than relying on just your home's central thermostat; you can place the SmartSensor in the nursery to help maintain the perfect sleep temperature for your child.
How to Use The ecobee Sweet Dreams Baby Kit
The ecobee Sweet Dreams Baby Kit is designed so that parents can quickly set it up for their baby and home. When you receive your bundle, you'll have everything you need to get started. All you have to do is install the ecobee app on your phone and install the three devices. 
When setting up your SmartCamera, be sure to choose the "baby monitor" program. From there, this will make a handful of changes to your camera's features that will be ideal for your baby's sleep and comfort. Some of these changes include hiding the siren feature to prevent accidental awakenings, dimming the LED lights for better sleep, and enabling audio streaming to your phone so you can hear your little one no matter if you're using another app or your phone is locked. 
To start using your SmartCamera, there are a few things parents need to do to ensure the best image quality. For the best field of view, avoid placing the camera in the corner of your baby's room. Consider placing your camera on an elevated surface or mounting it to the wall, so you can get a good view of your baby's crib and ensure there's plenty of room around the camera so as not to obstruct the 180° view. For safety, always tuck the cords out of reach of children and animals. 
To get the most accurate readings with your SmartSensor, place it or mount it about 4 feet or more off the ground, either on a table, shelf, or other open surface. Be sure to position it away from vents or other drafty areas. 
Design and Features
The ecobee Sweet Dreams Baby Kit delivers the latest smart technology to help parents give their newborns or tot the best sleep and protection. Here are the features you can enjoy with this innovative baby bundle. 
HD audio and integration:

SmartCamera delivers HD audio and integrates with Spotify and Amazon Music, so you can play your child anything they want directly from SmartCamera.

Two-way talk:

Say hello and hear it back. You'll come through loud and clear thanks to the two built-in far-field microphones and speakers. Send a reassuring shush or sing a favorite lullaby from afar.     

Remote connectivity:

Traditional baby monitors have a limited range, but the SmartCamera has no limits. You can check in from anywhere using any phone or tablet.

Built-in Amazon Alexa:

Your ecobee SmartCamera and ecobee SmartThermostat both come with Alexa Built-in. Use your voice to play calming white noise, play a favorite lullaby, adjust temperature, or ask Alexa to convert ounces of milk into milliliters.

SmartThermostat with SmartSensors:

Most thermostats only measure the temperature from where they are located. ecobee comes with a SmartSensor that you can place in the rooms that matter. Keeping your baby's room cool but comfortable is one way to maintain a safe sleep environment. It's recommended that babies sleep in a temperature between 68°F and 72°F.
Want to learn more? Continue exploring the Sweet Dreams Baby Kit products and features. 
Soothe Your Baby to Sleep With ecobee
We believe the ecobee Sweet Dreams Baby Kit is the best baby bundle available. Whether you've just brought the baby home or want to monitor your tot in the playroom, this kit is designed to grow with you and your little one. Not only will it keep your baby comfortable, happy, and healthy, but the whole family. For the latest home comfort and security, explore ecbobee's home monitoring systems.