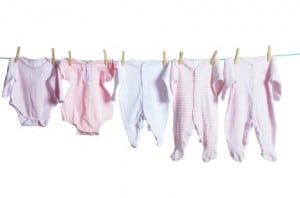 Diapers? Check.
Breast pump? Check.
Dirty diaper bin? Uh-oh.
Be sure to have everything ready for when your newborn arrives with this handy checklist.
Diaper changing pads
Diaper rash ointment
4 waterproof pads for changing table
Rattles and small toys
Dirty diaper receptacle
Wipes or cotton cloths
Small thermos to hold warm water (for cleaning babies younger than 6 weeks)
Plastic wipes holder (for the diaper bag)
2 packages newborn diapers
1 pack T-shirts
6 one-piece outfits that snap at the crotch (long and short sleeved)
4 pajama sets
6 pairs socks
2 pairs soft booties
2 pairs stretch cotton pants
3 bibs
Cotton sweater
Knit cap
Sun hat
Zip-up sweatshirt
15 baby hangers
Nursing pillow
6 burp cloths
6 bottles equipped with newborn nipples
Bottle brush
Insulated bottle holder for diaper bag
Nursing bras
Nursing pads for bras
Breast pump
3 hooded towels
2 packs of washcloths
Cotton swabs
Baby shampoo
Baby body wash
Infant bathing tub
Baby nail clipper
Soft brush and comb
Rubbing alcohol
Petroleum jelly
Digital thermometer
Bulb nasal aspirator
Mild soap for laundry
4 receiving blankets
2 cotton blankets
Cradle or bassinet with cotton sheets
2 crib mattress pads
2 waterproof liners (one for the bassinet and one for the crib)
Crib and mattress
Glider/rocking chair and footrest
Dresser
Hamper
Baby monitor with 2 receivers
Changing table
Cool mist humidifier or vaporizer
Lullaby CDs or audiotapes
Rear-facing infant car seat with head support padding
Stroller
Sun shields for car windows
Portable playpen
Diaper bag
Sling or soft front carrier
Bouncy seat
Baby books
Smart phone for camera
Baby music CDs
Playmat with toys attached
Squishy baby ball
To be sure to have everything ready for when your newborn arrives, start your baby registry and get a Free Welcome Box!