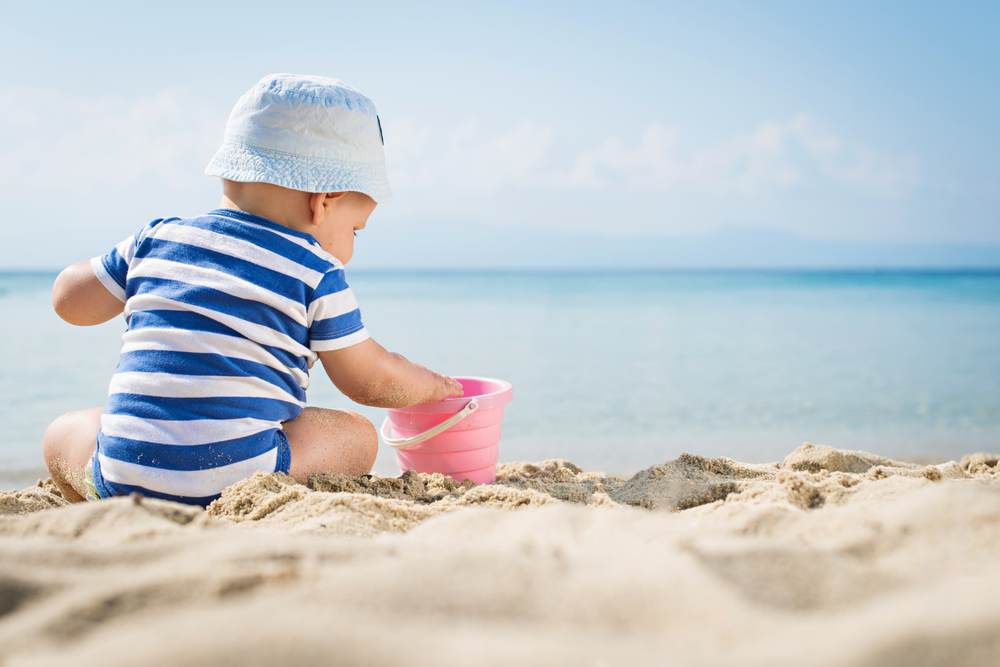 Ten Tips for Safe Summer Travel with Baby
Is your first summer vacation with the new addition to your family coming up?
Have you been worrying about what to take and how safe baby will be during your trip?
There is really no need to get stressed out over it. Just check out these simple tips to ensure you enjoy the best time ever on holiday with your new baby.
Tip #1 – Adjust your expectations
There is undoubtedly more work involved in showing a baby the world than travelling solo or as a couple – but that doesn't mean it's not worth the hassle. Babies need things, and you'll need to carry those things. Babies need to eat, and you'll need to have food. Babies need to sleep, and you'll need to ensure a safe place for that. So adjust the pace. Trying to cram as much into your days as possible will just make you all cranky and tired. Life has changed, and if you think travel hasn't, think again. But that travel is now more amazing than ever, for a new set of reasons.
Tip #2 – Pack smart
If you are travelling by car, you don't need to worry about weight, but space might still be an issue. By the time you have got the pram in your car boot, it might leave little space for anything else. So, packing smart is essential whether you fly or drive.  If you are travelling by plane and have paid an infant fare, you will find that most airlines will not give you a luggage allowance for baby as you have only paid for one seat. However, you can often bring a car seat or stroller without paying extra. Make sure you check your airline's website to see what you are and aren't allowed to bring, including the dimensions and weight of the suitcases and you can check in and the number of hand luggage pieces. After all, you will need a changing bag just for baby.
Before you start packing, make a list. The earlier you start, the more likely it is you won't forget any essentials. When you start packing, try rolling your clothes to maximise space. Put shoes into bags to keep baby's clothes clean. Most importantly make sure that any important items needed during travel are easily accessible. Also, remember airlines do lose luggage so if there is anything vital such as food, spare clothes or medication for baby, make sure it is in your hand luggage.
Tip #3 – Bring a sling or baby carrier
These are extremely useful even if you are taking a pram or stroller on vacation this summer and they take up virtually no space. If your airline wants you check in your pram, for example, a sling or baby carrier will be essential for those 2-3 hours you might have to walk around the airport carrying your baby. They are particularly handy for anyone travelling on their own with baby as it keeps your hands free and are often spotted at passport control.
Slings are also great if go anywhere that is not easily accessible by pram, or for quick trips to the shops. They don't just help carry your baby safely, they can also substitute as a blanket, changing pad or nursing cover. If slings aren't your thing, there are many lightweight baby carriers about that might protect your back from injury by distributing baby's increasing weight. Best of all, most babies love slings and baby carriers, and the combination of your body warmth, heart-beat and motion sends them straight to sleep.
Tip #4 – Take your own formula
It's a good idea to travel with baby formula and food as babies can be fussy eaters from an early age. Don't simply assume all countries will offer the same brands of baby formula or food, as many don't. Brands differ and it is very likely your baby will refuse formula from abroad as it will most certainly taste different. The same goes for baby cereal and baby jars if your little one is on solids.  If you do not have enough space to take all, then opt for formula. Your baby is more likely to eat mashed up fruit or baby meals from a different brand (or you could make your own as you might already do at home), than to change formula. Be extra careful to only use bottled and boiled water when you sterilise and prepare bottles to protect your baby from germs when travelling to countries known for foodborne diseases and bacteria.
Tip #5 – Breastfeeding
The best food for baby is also the easiest to have ready when you're on the road. Breastfeeding doesn't just eliminate the need to lug bottles, teats, equipment and formula around, whilst sterilizing everything; baby will also be getting valuable antibodies that will protect against illness when away from home. So, if you are still breastfeeding and want to stop soon, keep that in mind and consider delaying until after your vacation.
Tip #6 – Choose the right stroller
If your baby is under 6 months old, you will probably still be using a full-size pram. If this can be converted into a comfortable pushchair for baby, consider making do without the carry cot for your trip to save space. Just remember to check the manual for age recommendations. It might be that the converted version does not offer enough neck and head support.  If your baby is old enough to sit or lie back in a stroller, look into buying a lightweight pushchair that can easily be folded and takes up little weight in your car.  Even the cheap ones are pretty durable and will be very useful for years to come. Make sure that it is comfortable enough to allow baby to sleep and that you buy the usual accessories to protect little one from the sun this summer as she will be more exposed in a stroller.
Tip #7 – Car seats and sun shades
Car seat laws vary by state and country so can be confusing. The fact is that any young baby will be safest in a rear facing car seat whether you travel by car or plane. If you are going away by car, no doubt, baby will travel in its own car seat. But have you thought about sun shades for baby's car windows? This is vital to protect your little one. A sun windshield cover to keep the car cool whilst parked will also greatly help to keep baby safe and comfortable this summer.  If, however, you are flying to your summer holiday destination, you need to think about either hiring a car seat when you arrive at your destination or bringing your own. In case you have a seat booked for your baby (which is not required under the age of 2) and your car seat is approved for use in an aircraft by the FAA, then you can bring and use your car seat during the flight which is the safest way for baby to travel. Alternatively, if you haven't booked a seat and intend to have your son or daughter on your lap, then you can check your car seat in (check for airline charges) or you can hire a seat at your destination. Taxi companies often provide car seats but beware they need to be booked in advance plus age and weight of the baby need to be given. You can also book a bassinet if you travel long haul but note that most airlines do not guarantee availability even if confirmed in advance.
Tip #8 – Baby friendly accommodation
Don't assume all hotels naturally have baby cribs, high chairs, bottle warmers, etc. available.  Call the hotel before booking any accommodation to check what is provided and what isn't – and specify what needs to be readily available for your arrival. This will save you a lot of hassle and potentially a lot of unnecessary packing.  If you are travelling with a baby this summer, you need to ensure that your room has air
conditioning. It is also very useful to request a quiet room. Rooms at the end of corridors usually work best as chances are much higher that you and baby are not woken by anyone returning noisily to their room in the early hours. It also means that fewer guests will be affected by your baby's crying.
Tip #9 – Sun safety
Keeping your baby safe in the sun is vital, especially with those potentially hot summer months approaching. If you do not protect baby from the harmful sun rays, it could have an increased risk of skin cancer in later life.  When it comes to purchasing sun lotion, go for high factor (SPF 50) and fragrance free products. Babies have more sensitive skin and develop have an allergic reaction. Kids sun lotion is fragrance free and thicker than adult sun lotion providing better coverage and hence making it overall for baby safer than adult lotion.  Covering baby in high factor sun cream is just one way of keeping her safe. Sun hats covering the neck are equally important and so are UV suits if you want to go swimming with little one. If you are going to the beach, consider taking a pop-up tent or at least a good size parasol.
Tip #10 – Travel vaccinations
Does your baby need shots? Research your summer holiday destination well ahead of time to see if there's a travel advisory. And don't leave it to the last minute: vaccinations often require weeks or even months between shots.  There are many things to consider when you take your baby on holiday in the summer. Start planning early and make a list to ensure you don't forget any essentials, especially if you go abroad. That way, little can go wrong. And if it does, relax and go with the flow because baby will pick up on your stress levels more than it will care about the forgotten sun shade!
Helpful tips and tricks for traveling with your baby this summer!
To be sure to have everything ready for when your newborn arrives, start your baby registry and get a Free Welcome Box!