Co-sleeping is a staple of the attachment parenting method and one of the more controversial issues in parenting today. It has been linked to better infant health, easier breastfeeding, and improved sleep for babies. Unfortunately, while co-sleeping offers numerous benefits, the arrangement doesn't always work for every family.
Many parents find co-sleeping disruptive to family life, leading to relationship stress and poor sleep quality for parents. For other families, co-sleeping may be beneficial and convenient until their baby begins rolling and crawling and can make weaning off the breast a challenge.
The American Academy of Pediatrics (AAP) recommends that infants sleep in the same room as their parents until at least six months old but preferably a year to reduce the risk of SIDS. After this time, infant sleep experts suggest transitioning your little one to their own room if the choice to co-sleep is no longer an option as prolonged room sharing may actually have a detrimental effect on baby sleep patterns.
However, after becoming used to the smell, warmth, and feel of sleeping next to their parents, many infants are reluctant to accept their own bedroom, making the change to an independent sleeping arrangement challenging. There are several ways that you can ease the transition from co-sleeping. Here are few tried and true tips for helping your baby accept their new room and sleep soundly through the night.
Use a Baby Monitor
Babies aren't the only ones nervous about sleeping in their own room for the first time. Many parents may feel anxious without their little one close to them during the night. A baby monitor can help alleviate your worries by letting you observe your baby sleeping from the comfort of your own bed.
The latest in infant sleep technology is the smart baby monitor. The award-winning Lumi by Pampers Smart Baby Monitor uses cutting-edge audio-visual features, including a 360° panoramic camera that delivers 1080p HD crystal clear images directly to your phone via the integrated app. These images and the 2-way audio feature help you pick up on subtle non-verbal cues for hunger, tiredness, and wakefulness, so you can respond more effectively to your baby's needs, whether they need a diaper change or a bottle.
Make the Bedroom a Sleep Conducive Environment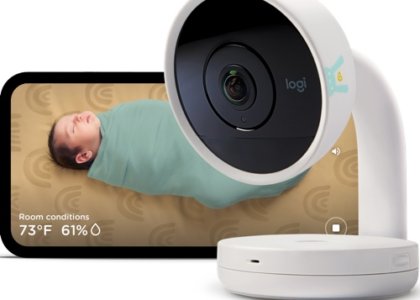 If your baby is too cold, too hot, distracted, or uncomfortable, it is more difficult for them to fall asleep and stay sleeping through the night. Your baby's bedroom should be a place that encourages relaxation, with the optimal conditions for sleep.
Minimize distractions such as bright lights and over-the-crib hanging mobiles. Keep bedding minimal by dressing them appropriately for sleep and using only a mattress protector, fitted sheet, and a blanket. Swaddle infants until they can roll, while for older babies, a sleeping bag can prevent them from kicking off the covers.
The Lumi Smart Sleep System provides tips to help you understand your baby's sleep and how to nurture it based on your baby's unique habits.
Create a Soothing Bedtime Routine
Babies feel comforted by routine and boundaries. It helps them to understand what is happening and what to expect next. A sleep routine signals to your little one that it is time for bed and induces a sense of calm, allowing them to drift off more easily.
The best approach to creating your baby's sleep schedule is to keep it simple and integrate it into their natural program. Try a bath, a gentle massage, and a story before bed.
If your baby isn't responding to your routine, try using a sleep system. The Lumi by Pampers Smart Baby Monitor and Smart Sleep System bundle includes their incredible pediatrician-approved sleep sensor and access to the Sleep Coaching Video Series. The small Smart Sleep Device attaches to your baby's diaper, tracks baby's sleep patterns, and provides personalized insights about the baby's unique sleep habits so you can easily know where and how to intervene to improve baby's sleep.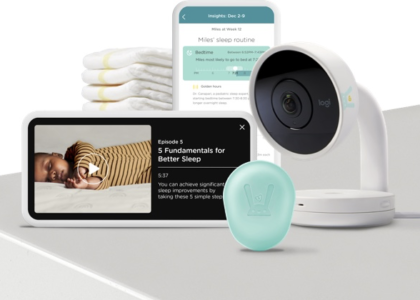 The JPMA-certified sensor is connected to the Lumi App, which you'll have unlimited access to. In the app, you'll find a wide array of Sleep Coaching Videos for newborns to 16 months. Every video includes step-by-step pediatrician-backed instructions for creating a sleeping schedule for your little one. The instructions combined with the personalized insights helps parents make the courses work for their baby's unique needs.
Develop Positive Sleep Associations
Sleep associations are any action or device that helps your baby to sleep. For a baby who co-sleeps, they may have developed an association between sleep and their parents' smell or touch. When transitioning your little one to their own room, you need to create new positive sleep associations to replace your presence.
For the first 12 months, the AAP recommends that the baby's sleep area be free from stuffed toys, loveys, and excess bedding, typically used as sleep association tools. This means that the safest way to develop positive sleep associations in infants under a year old is by using a pacifier or white noise machine.
A white noise machine emits a gentle, low hum that imitates the sounds heard from inside the womb, which is soothing for many babies. Pacifier use is a fairly controversial topic, with many dental professionals suggesting that pacifiers can cause poor tooth and gum development. However, pacifiers are recommended by the AAP as a suitable tool to help your baby sleep, but only once breastfeeding or bottle feeding has been successfully established.
Help the Whole Family Get a Good Night's Sleep
While co-sleeping may have been ideal during the first six months of your baby's life, a kicking, rolling child in your bed can make getting a healthy night's rest challenging. A well-rested parent is a happy and effective parent, so if co-sleeping is no longer letting you get the sleep you need, consider transitioning your little one to their own bedroom.
Smooth the transition with a state-of-the-art Smart Baby Monitor + Sleep System so you can respond to your baby's needs even when you aren't in the room. With the data available through these devices and by following the expert advice in the Sleep Coaching Videos, you can create a soothing bedtime routine and a cozy environment that will help you little one doze peacefully all night long.