If you're about to welcome a bundle of joy (and stress and exhaustion, but mostly joy) into your home, you probably have a room in mind for your new addition. If you're setting up a nursery, here's what you really need to get started.
A Place to Sleep
True, infants in their early stages of development can and do sleep just about anywhere. No matter if you have a bassinet, a co-sleeper, the sleekest modern sleep swing, or a crib passed down for generations, the aim of it is the same – you need a safe, cozy place that your baby will love. For your baby's first year at home, it doesn't have to be anything overly fancy.
The American Academy of Pediatrics (AAP) recommends that babies share a room with their parents for at least six months but preferably a year to reduce Sudden Infant Death Syndrome (SIDS) risk.
A bassinet is ideal if you are limited for space and need a portable space for your little one to sleep. Bassinets are suitable for infants up to six months, or until they can sit up independently. They often feature a rocking mechanism to lull your little one to sleep gently, and many models come with casters so you can transport your baby around the house without waking them.
For parents interested in cosleeping, a co-sleeper crib is a safe alternative to having the baby in your bed. Sharing a bed with your little one comes with significant risks. A co-sleeper crib attaches to the side of your bed to keep your baby close and calm, allowing for quick and easy night feedings. Some types of cosleeper feature a removable side that lets you keep a barrier between you and your baby in case either of you roll during the night.
Once your baby is around six months, however, the story changes. When your baby starts to become mobile, curious, and able to pull themselves up to a standing position, it's time to opt for a crib.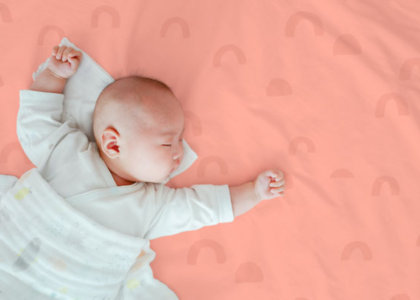 More than style, what you want out of your crib is ease and functionality. Remember, you probably will have to lower your sleeping child into the crib without waking them up.
When you're shopping for a new crib, make sure there is a lowering function to the sides to make it easy for you to lower and lift it one-handed, as your other arm may be supporting your sleeping baby. But this mechanism should have a locking control so that it's not too easy for, say, a precocious child to lower with their body's weight.
Monitoring Your Baby from the Outside
Soon your baby's sleep patterns will become the most interesting and talked about subject in your household. Because infants sleep for only a few hours at a time, your sleep routine will soon be dictated by the baby's sleep schedule.
One of the most useful tools in a nursery is a baby monitor that lets you know when your baby wakes up. The latest development in baby monitoring technology is Smart Monitors, which allow you to listen and observe your baby from your phone. Lumi by Pampers is an award-winning integrated smart baby monitor and phone app.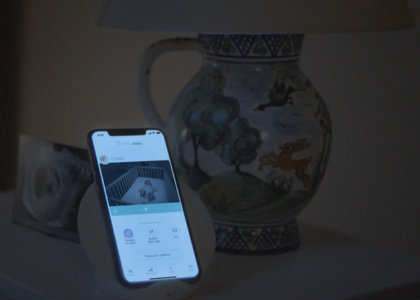 The Lumi monitor features an ultra-wide 180° view and HD resolution for crystal clear images of your little one. Parents are usually looking for top of the line security to ensure baby's camera feed is secure and private, continuous background audio to hear baby even when phone is locked, and recording to capture baby's key moments. Lumi has 2-way audio so you can soothe your baby back to sleep from the comfort of your bed, and a user favorite "Lookback" feature that is a 60-second daily video summary of your baby's key moments.
If you get the monitor bundle, you'll also get the sleep sensor which follows the American Sleep Association safe sleep guidelines and tracks your baby's sleep to give you insight into when they are getting the most rest so you can plan your feeding and activity schedule.
A great tip from experienced parents is not to run into the nursery any time you hear a squeak or whimper from your child. Much of the time, your baby will learn to self-soothe and fall back asleep on their own.
Regardless of your thoughts on how long your baby should be allowed to fuss after waking, a sleep monitoring kit is essential for your new nursery.
A Place to Clean Up
One necessary section of your nursery is a changing table. The rest of the nursery can be as themed or decorated as you like, but this area's functionality is the most crucial aspect of it.
Look for a changing pad or cushion that is concave or has a strap across the middle to deter a squirmy baby from moving around too much. Your changing table should have some storage underneath for extra clothes, just in case.
Wipes, ointments, and lots of diapers like these Lumi by Pampers diapers that work together with Lumi's sleep tracking sensor should be close so you can keep one hand securely on your infant while the other grabs a new diaper. And if you're blessed with a baby boy, remember to keep him covered until you have a diaper in hand, ready to put on, to diminish the chances of getting sprayed.
A secure trash can or diaper genie (sometimes with an air freshener attached to the inside) should be next to your dominant hand, or whichever hand you think will be at the business end of the diaper-changing process. Again, consider how the tasks you'll be doing one-handed might affect how you set-up your changing table.
Safe Storage
Babies may be small, but their linens, clothing, and other essentials can take up considerable space. For a durable option, choose a dresser with dovetail drawer joints. Always anchor dressers and other large pieces of baby furniture to the wall or install anti-tip devices to keep your little one safe.
A Place to Sit
One place that you'll be spending a large amount of time in the first year of your baby's life at home is sitting in your nursing chair. For feeding time, cuddles, reading time, or just a place to put your feet up, a nursing chair is a must-have for any new nursery.
This particular nursery item is more about you and less about the baby. Make sure the chair is comfortable for you to sit in for long periods. Many nursing chairs come with an ottoman, swiveling, rocking capabilities, cushioning, and even storage.
The Final Word
Welcoming an infant into your home changes everything. Sleeping patterns, furniture, clutter, and noise will all be upended in the joyous, chaotic months that follow your baby's arrival.
Before they come home from the hospital, make sure you have everything ready for their arrival, including a crib, a changing table, a dresser, a baby monitor, and a nursing chair.
Babies are resilient and adaptable, and for the first year, they don't need much else than their caregivers. That being said, having a gear like Lumi can help you understand how to get your baby into a sleep routine, so your baby can rest easier and so can you.