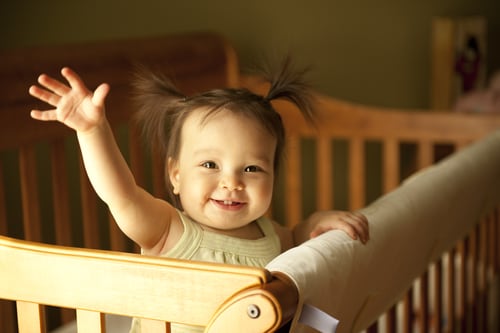 There may be a biological reason that buying things for your baby's room is so satisfying: Like avian parents-to-be, expectant humans seem to be wired with a nesting instinct, which typically kicks in around a woman's fifth to eighth month of pregnancy.
The wide variety of styles and colors available in baby furniture and fabrics makes shopping all the more fun. But what are the nursery furniture essentials you have to have versus the stuff that's just extra? Here's the five basic items to get for your baby's room. Before buying any of these necessities, ensure fit by measuring your nursery and the pieces you're considering.
A crib. Required to meet federal government standards, cribs must conform to set dimensions and construction and durability requirements, but they come in a broad selection of styles nonetheless. Some models come with storage drawers and some can be converted into toddler or day beds later on. To go along with the crib, you'll need a crib mattress and bedding.
A changing table. A changing table is invaluable for its height, which can save you from back pain. Look for a model with side rails, a safety strap, and a waterproof pad with a washable cover.
A rocking or gliding chair. A rocking or gliding chair provides a comfortable place for nursing and can help lull your baby to sleep. Traditional hardwood rocking chairs are still available along with newer, cushier gliders, some of which come with matching ottomans.
A dresser. When shopping for a dresser, keep in mind that the tiny clothes you need it to hold now will soon be replaced with much larger versions. You may want to get a chest of drawers that will serve your bouncing baby boy, for example, until he's 17 years old and 6 feet tall.
Organizational storage bins. Not an absolute necessity, but definitely helpful for giving toys a home and corralling clutter–something you'll likely have a lot of in the coming months!
By Katherine M. Tomlinson
To be sure to have everything ready for when your newborn arrives, start your baby registry and get a Free Welcome Box!