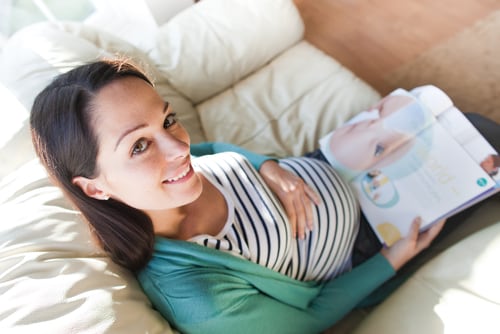 Whether you're documenting what are certain to be among the most treasured days of your life or overcoming your delivery-room fears by getting informed, books on maternity and motherhood can help you make the most of your parenting experience. But with so many titles out there, it can be dizzying to figure out which one (or, let's face it, five!) is really the best. Confusion, no more!
We've narrowed the list down to our three ultimate favorites.
Healthy Mom, Healthy Baby (A March of Dimes Book): The Ultimate Pregnancy Guide
Designed for moms-to-be at any stage of pregnancy, Healthy Mom, Healthy Baby has the most up-to-date pregnancy health info available. Practical, accessible, and friendly, this guide offers clear explanations to all your bump-related questions, research-based recommendations, and sensible advice for the healthiest pregnancy possible.
The Mommy Docs' Ultimate Guide to Pregnancy and Birth
The next best thing to having your OB/GYN available 24/7. In this hefty read, three top obstetricians deliver a comprehensive guide to pregnancy and delivery, including answers to pressing questions (How can I boost my fertility? What's the difference between Braxton-Hicks contractions and true labor?) to real-life stories and practical tips straight from the docs' office.
Bumpology: The Myth-Busting Pregnancy Book for Curious Parents-to-Be
So brand spankin' new, you'll have to wait until March to get your hands on it (though you can preorder it on Amazon now). Award-winning science journalist Linda Geddes takes an evidence-based approach to a variety of questions about pregnancy, childbirth, and baby's first year, and presents answers by drawing on both scientific data and personal anecdote.