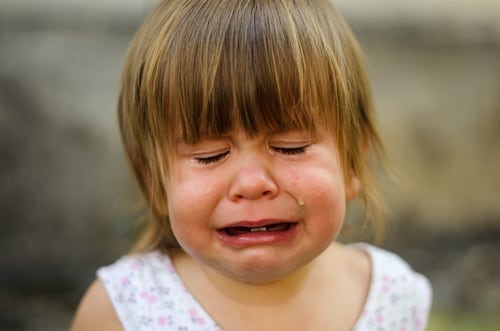 Most parents dread the terrible twos, but the truth is that temper tantrums usually start much earlier. In fact, a child as young as one can have them, says Ari Brown, M.D., pediatrician and founder of 411 Pediatrics & After Hours Care in Austin, Texas. "The average age for temper tantrums is between one year and four years old. Children are not only trying to exert their independence, but they also have a limited vocabulary and aren't able to express their wants, needs and frustrations very well." Luckily, moms and dads don't have to just deal with this behavior. Here's help for toddler temper tantrums.
Preventing toddler temper tantrums
Be realistic. This isn't just about setting limits on your toddler's behavior, but adjusting your expectations of what he is capable of. "If you know your child is hungry or tired after school or daycare, taking them on a few errands is probably not a good idea," says Brown. To prevent a toddler temper tantrum, "you need to be aware of how much your child can handle," she says.
Be consistent. Don't allow things one day and not the next, such as letting her stay up way past bedtime one night and then expecting her to go down without a fight the next. "Children need routines and rules," says Robert Nickell, a parenting expert and founder of daddyscrubs.com.
Be prepared. Distraction can really help prevent—or at least shorten—toddler temper tantrum. Play a game, offer a healthy snack, sing your child's favorite song—anything that might help your child forget what set him off in the first place!
Be fair. Toddler temper tantrums are all about control. "If they know they have it from time to time, they might not need it as often," says Nickell. "Let them choose what color sweater they wear, or apple juice or milk. When possible, allow them some power in their own life."
Dealing with toddler temper tantrums
Be calm. The best (and sometimes, the hardest) thing a parent can is to not react to the temper tantrum with anything other than controlled calmness, says Norma Velvikis, a mom of one from Lost Angeles. "I learned from experience with my son that if you react in a big way, it will cause more [temper tantrums] because it worked."
Be patient. "Rather than yell or try to subdue my 2 1/2 year old, I get down on her level and connect with her," explains Chrystal Simmons, a mom of two from Kansas City, Missouri. "I wait until she looks in my eyes, and we find out what her feelings are as best as can be done with a limited vocabulary."
Be safe. If you're out in public, find a quiet area where you can sit and hold your child to try to calm her down. "It could be a restroom or you might even have to go out to the car for a bit," says Brown. You want to be able to keep him from moving around too much (throwing himself on the ground, flailing his arms, etc.) so he won't get hurt.
Be strong. Even if your child calms down in record time, do not offer her a reward afterwards, says Lisa Bahar, a marriage and family therapist in Dana Point, California. A treat or a toy would be seen as positive reinforcement for the temper tantrum. Instead, offer words of praise to your child for calming down so quickly, such as "That was great that you decided to use your words instead of crying."
By Linda DiProperzio